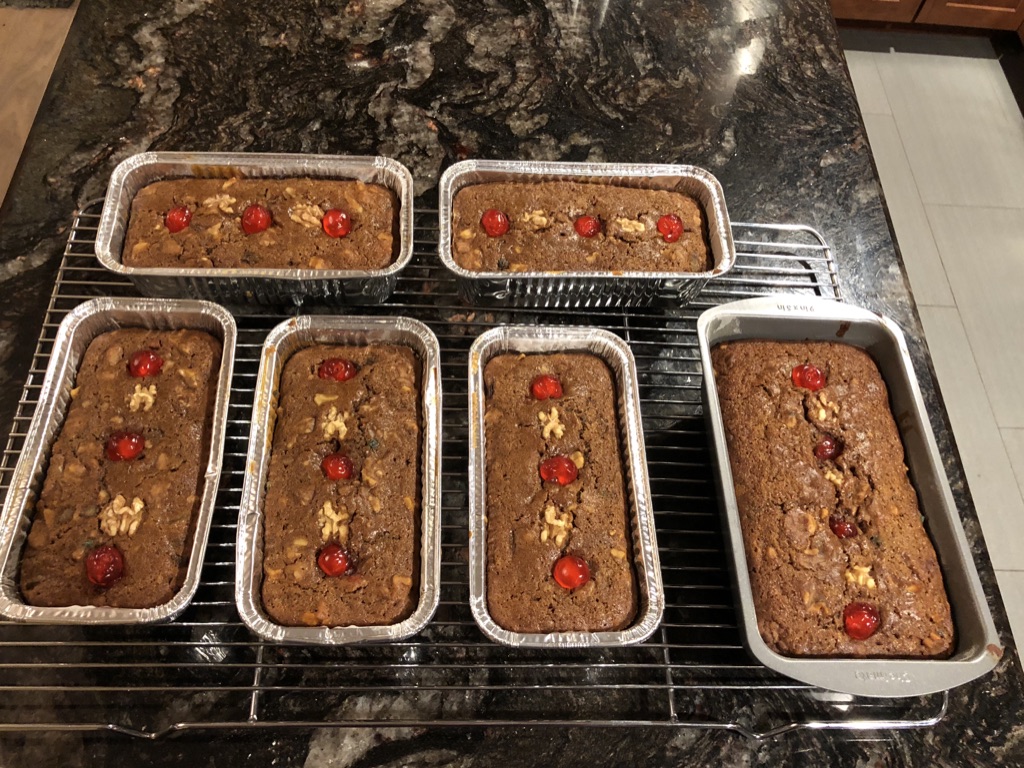 About this dish
Serves: makes 5 little loaf pans and one big if you use 32oz of fruit
Time: takes several hours, due to the cooling step
Method: oven baking
TBD.
Equipment
5 little loaf pans or 2 large ones
Ingredients
First group – to boil (see instructions)

1 box brown sugar (1 lb)
2 boxes raisins (12 oz per box, i.e., 1.5 lbs)
5 cups water
1/2 lb butter
2t nutmeg
2t cinnamon
2t ground cloves
1t salt
Second group (to add after the first group is boiled and cooled)

2t vanilla
1 cup whiskey (or rum)
2t baking soda dissolved in 1 cup warm water
5 1/2 cups flour
Third group (to add after the second)

5 cups nuts (3 pkgs walnuts, e.g., 1 lb, coarsely chopped)
2 cups mixed candied fruit (1 lb), rinsed and patted dry (to remove exterior sugar syrup)
More stuff you'll need for prep and garnish:

extra butter and flour to prepare the loaf pans
extra halved candied fruit rinsed and dried (e.g., cherries) and nut meat halves to decorate each loaf (as desired)
Instructions
Place first block of ingredients in a large pot and bring to a boil for 5 minutes. Leave to cool *completely* (overnight works fine).
Grease and flour the loaf pans.
Add the vanilla and whiskey and stir. Stir in the baking soda mixture, which will foam quite a bit.
Add the flour all at once and stir until blended well.
Add the nuts and candied fruit.
Place mixture into loaf pans and decorate with reserved candied fruit and nut meats.
Bake at 350 F for 55 minutes. Cool on a wire rack.
Can be frozen up to 6 months if tightly wrapped in tinfoil.
Tastes better after a day or two (the flavors meld).