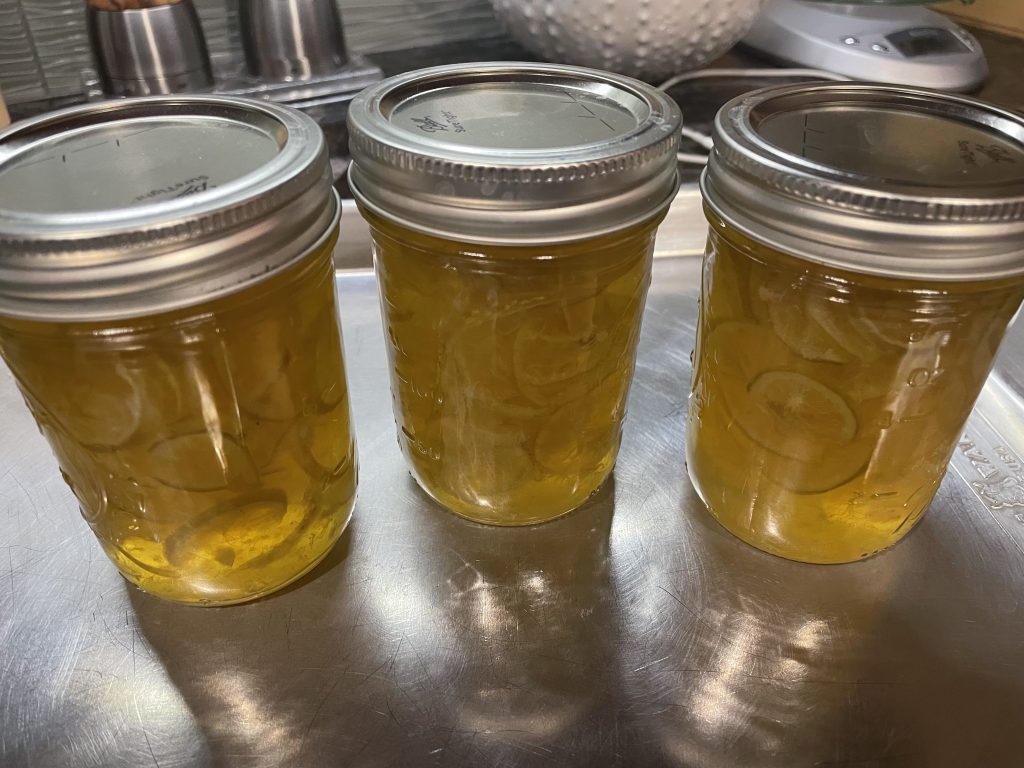 About this dish
Serves: a lot!
Time: 1 hour to prep the first day; 2 hours the second to cook and finish
Method: stovetop
Our hummingbirds help make our key lime tree a constant source of fruit. This is a summary of the Food Network recipe to turn them into key lime marmalade. Marmalade is just jam made from citrus, so this is basically lime jam. I made this the first time during the COVID-19 lockdown in 2021.
Note: this is "refrigerator" jam as described below. It CAN be made shelf-stable with proper canning procedures, but those are NOT described here. The method here makes jam that should be refrigerated and can last several months if kept cold.
Ingredients
key limes, about 1.5 pints, enough to fill a pint container when sliced thin
white sugar (about 4-6 cups)
water (about a cup)
Equipment
Instructions
DAY 1:
Wash clean key limes.
Slice very thin, removing seeds and retaining juice – omit discolorations and stem area.
Put in 1 pt Tupperware and add enough water to just cover limes.
Let sit at room temp covered overnight.
DAY 2:
Place mixture into wide pan with 2-3" sides.
Bring to a boil gently, then reduce to simmer. Simmer COVERED for 40 minutes.
Measure mixture volume and replace in pan.
Measure white sugar to match that volume.
Heat sugar (oven or microwave).
Bring mixture to a boil and add sugar all once off the heat.
Stir gently until sugar is dissolved on the heat but to NOT bring to boil until all the sugar is dissolved.
At this point, DO NOT STIR.
Bring mixture to a boil UNCOVERED for 10 minutes (careful – mixture may want to try to boil over).
Test mixture on a frozen plate; if not gelling, cook another 3 minutes.
Stop heat. Let stand 5 minutes, then place into jars
.